---
---
---
Many composers have been inspired to set the words of Hanns Heinen's poetry to music, with artists and composers such as Werner Krahnert, Hallgrimur Hellgasson and Heinz-Peter Knoop composing musical scores of his works.
---
Born in Berlin in 1935, Werner Krahnert was a church musician and composer. As the oldest son of a pastor who had resisted the regimes of both the Third Reich and the German Democratic Republic in the years that followed, Krahnert studied church music at the Johannesstift in Spandau under figures such as Ernst Pepping.
Between 1961 and 1973, he was the cantor of the church in Solingen-Dorp, before becoming director of church music in Bamberg until his retirement in 2000. He died in Berlin in 2018.
In addition, Werner Krahnert gave solo performances as an accompanist on the piano and harpsichord and also appeared alongside the Bamberg symphony orchestra. He composed some of his own pieces as well. Aside from his numerous church music pieces (including "Christmas Story"), he composed songs based on poems by artists such as Johann Jakob Josef "Hanns" Heinen and Joseph von Eichendorff and scored Johannes Brahms' "Four Serious Songs". He always thought his compositions should illustrate and serve the meaning of the text. The message should be the main focus, aided by clear structures and tonal harmonies. His works appear simple, yet are artful, transparent and radiant in their delivery. Music not as an end in itself, but rather a unity of message and form.
During his time in Solingen, he made the acquaintance of Erwin Bowien and Bettina Heinen-Ayech. Their budding friendship soon led to artistic collaborations. They painted, while he collected, composed and played.
---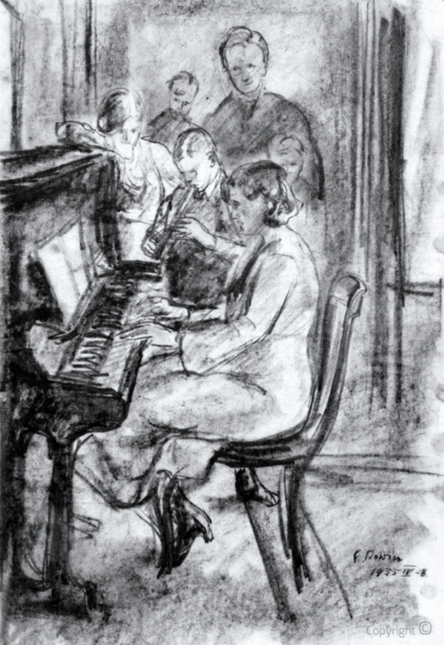 ---
Born in the small fishing village of Eyvavbakki on the south coast of Iceland, both of his parents were primary school teachers. At the age of 8, he learned to play the violin. After studying in Copenhagen for a short time in 1935, he studied at the Landeskonservatorium in Leipzig between 1936 and 1939.
From 1949, he studied music theory at the Academy of Music in Zürich. It was there that he met the painter Erwin Bowien (1899-1972). The pair became lifelong friends through Bowien's ties to the Heinen family and Helgason's visits to Erna Heinen-Steinhoff's (1898-1969) salon at the Black House colony in Solingen. He obtained a doctorate from the University of Zurich in 1954 and gave lectures in the Netherlands, West Germany, East Germany, Austria, Switzerland and all of the Nordic countries. He was a founding member of the Icelandic Composers Association and the Icelandic Copyright Society. He founded and led the Icelandic music magazine Tönlistin (= The Music) from 1940 until 1947. He worked for the Icelandic national broadcaster between 1959 and 1966, and as a professor at the University of Saskatchewan between 1966 and 1974, then a guest professor at the Free University of Berlin in 1970. Additionally, he was awarded the Icelandic "Order of the Falcon" by the country's president in 1963. From 1974, he was a professor at the University of Iceland, as well as a founding member of the Friends of Erwin Bowien Society e.V at Solingen's German Blade Museum in 1976. He composed around 60 pieces, covering all genres.
He first encountered the poetic works of Hanns Heinen (1895-1961) in the 1950s when Erna Heinen-Steinhoff recited them during his visits to the salon. This inspired him to put the words to music, translating some of Heinen's poems into Icelandic and using the lyrics to compose elegies.
He described his own musical style as free-tonal within a folkloric expression.
Helgason also earned particular merits for collecting and scoring Icelandic folk songs.
---
A native of Graz, this renowned actress and chanson signer Marianne Kopatz (1929-2020) was active in the Vereinigten Bühnen Graz (United Stages of Graz), where she played in numerous productions at the Graz Opera House, including "My Fair Lady", in which she captivated audiences as Mrs. Higgins in 1996 and in "The Sound of Music" in 2009. She was also a regular feature at the Schauspielhaus in Graz, where alongside Herta Heger and Gerti Pall, she treated her audiences to unforgettable evenings at the theatre. Marianne Kopatz was awarded the Gold Medal of Honour of the Austrian state of Styria.
It was through her friend Bettina Heinen-Ayech, whom she had met in 1968 on a trip to Algiers, that she became acquainted with the works of Hanns Heinen. So impressed by Hanns Heinen's philosophical and lyrical way of thinking, she asked the composer Peter Költringer to set five of Hanns Heinen's poems to her choice to music. The chanson singer performed these songs for the first time in Solingen in 1985 in front of a large audience at a preview of Bettina Heinen-Ayech's work. And so, the following 5 chansons were composed (Heinen-Költringer): Sonett, Wettlauf, über das Ewige, die Treppe, Lied.
---
The sculptor, designer and musician Heinz-Peter Knoop (born 1947) is a major artist in the Bergisch region of Germany.
He became aware of Hanns Heinen's poems and sonnets through his acquaintance with the painter Bettina Heinen – Ayech. They inspired many of his scores, which he put to music so masterfully with his guitar as he sang the texts of the poems. The evenings spent by the campfire at the Balkhauer Kotten Museum in Solingen, where he played music and took on the role of a bard, singing the poems of Hanns Heinen were said to be unforgettable.
Heinz – Peter Knoop was born in Solingen and learned sculpture under Arthur Wasserloos. He is a member of Solingen's community of artists. His studio is in Burscheid.
---